Free Colon Cancer Screening (PROJECT FIT)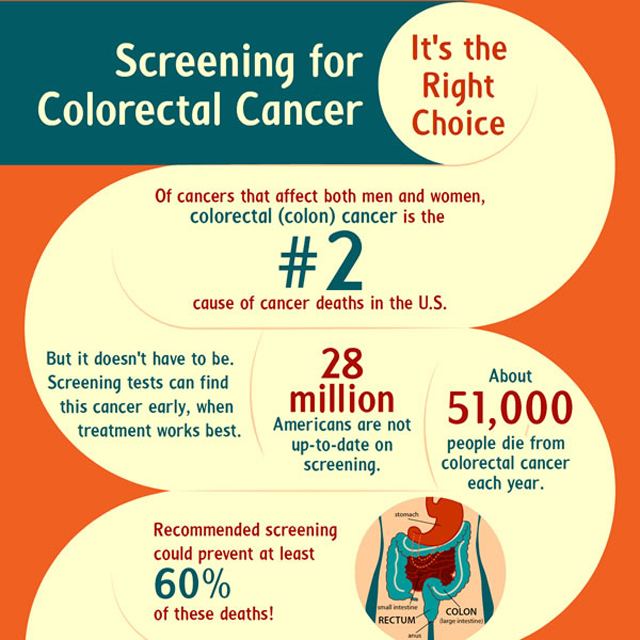 A FREE colon cancer screening program is available at VCare Clinics.  Project FIT is a free colon cancer screening offered by our partnership with The University of Texas MD Anderson Cancer Center.  All VCare Clinics patients are given a free FIT Test once a year.  This is one of the many benefits of being a VCare Clinics patient.
Can I participate in FIT?

If you are between the ages of 50-75.
You have not had a positive stool test in the past 12 months.
You have not had a colonoscopy or sigmoidoscopy in the past 5 years.

What services will I get with FIT?

Free education on colorectal cancer screening.
A free, take-home, fecal immunochemical test (FIT) that will check for blood in your stool.
If your test is positive, a free colonoscopy screening test.

What will not be paid for by FIT?

Your free colonoscopy may find polyps or cancer. The polyps may be removed during the procedure.
FIT cannot pay if you need more testing or if you need treatment for cancer. FIT staff will help direct you to resources for treatment.
You should be checked for colon cancer if:
You are age 50 or older.
Your parents, brothers, sisters, or children have had colon cancer.
Polyps or growths have been found in your colon. Finding and removing them may reduce the risk of colon cancer.
You have a condition caused by changes in certain genes that can cause colon cancer.
Come to VCare Clinics to obtain this FREE colon cancer screening kit!  Call us right now to schedule an appointment:  713-640-2273.  We are located near Hobby Airport: 8121 Broadway #103, Houston, TX 77061.
IN SPANISH BELOW
Gratis Chequeo De Cáncer De Colon
El Proyecto FIT es un programa gratuito de chequeo de cáncer de colon.  Este programa gratuito de detección precoz del cáncer de colon es posible a través de nuestra colaboración con The University of Texas MD Anderson Cancer Center.  Todos los pacientes de VCare Clinics reciben un equipo de muestra FIT cada año.  Esto es uno de los muchos beneficios de ser paciente de VCare Clinics.
Quien puede recibir un FIT kit?

Si usted tiene entre 50-75 años de edad.
Usted no ha tenido una prueba de heces positive en los últimos 12 meses.
A usted no le han hecho un colonoscopia o sigmoidoscopía en los últimos 5 años.

Cuales servicios están cubiertos en el programa FIT?

Información gratis sobre la detección de cáncer de colon.
Un examen FIT gratis que revisara si hay sangre en las heces.
Si la prueba es positiva, le ofrecemos una colonoscopía

Cuales servicios no están incluidos en el programa FIT?

Su colonoscopia gratuita puede encontrar pólipos o cáncer. Si se encuentran pólipos, durante la colonoscopía, se los pueden extraer en ese momento.
Proyecto FIT no puede pagar si hay que hacer pruebas adicionales o tratamientos contra el cáncer. El personal del programa FIT le ayudara dirigiéndole hacia los recursos para el tratamiento.
Usted se debe de hacer un examen si:
Tiene 50 años o más.
Sus padres, hermanos, hermanas, o hijos tuvieron cáncer de colon.
Le han encontrado pólipos o crecimientos en el colon. Encontrar y extirpar los pólipos puede reducir el riesgo de cáncer de colon.
Tiene una condición causada por cambios en ciertos genes que puede causar cáncer de colon.
Venga a VCare Clinics para obtener este examen de detección de cáncer de colon completamente gratuito!  Llámenos ahora mismo: 713-640-2273.  Estamos cerca del Aeropuerto Hobby, 8121 Broadway #103, Houston, TX 77061.